Featured Courses
Gain the confidence to create digital media and teach media literacy skills—from producing videos to identifying misinformation to understanding copyright.

FREE Online workshop for grade 3-12 educators
January 18, 4-5pm PST

Science is ever evolving with new discoveries, technology and research, but with the speed that information is spread by the news cycle and social media, oftentimes science can get oversimplified or sensationalized in order to get views. In this interactive workshop, you will learn how to spot bad science reporting and misinformation and practice identifying and evaluating credible sources. You'll leave with ideas, teaching tips and ready-to-use resources to use in your STEM classroom.

REGISTER HERE


Educators in K-12 will gain the skills and confidence to successfully incorporate media literacy and media production into your teaching—whether you work with students or other teachers!

Set your own schedule and learn at your own pace with hands-on, step-by-step courses developed by our team of professional media literacy instructors. No expensive media-making software required.


Earn a Certificate of Completion for 10 hours of course work for each course completed. Courses also help you earn micro-credentials toward PBS Media Literacy Educator Certification.
PBS Media Literacy Educator Certification by KQED

KQED Teach courses help you prepare to apply for media literacy micro-credentials on Digital Promise.
Earn all 8 micro-credentials to become a PBS Certified Media Literacy Educator.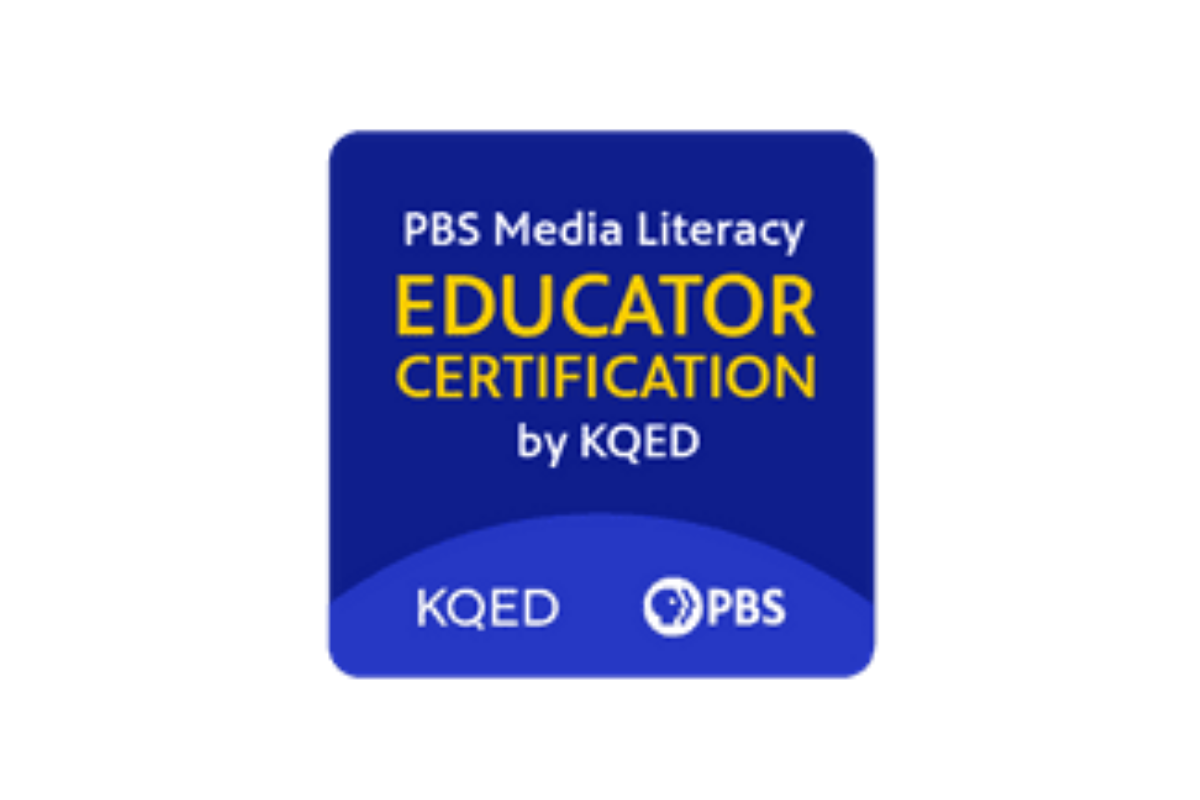 What Educators Have to Say
"I had been avoiding media projects because I wasn't comfortable, but now I'm looking forward to it. The lessons really walk you through the student experience, which is so effective." —High School Librarian
"In the Video Production course, I made a short video which I showed to a fifth grade class. It was SO MUCH FUN! Their eyes were glued to the screen (an achievement to have such focus) and they responded thoughtfully and went on to write some amazing stories." —Elementary Teacher      


NAMLE selected KQED's Educator Certification for their 2022 Media Literate Media Award, which recognizes outstanding contributions to media literacy.


Common Sense Education rated KQED Teach a "Super PD resource for making media in the classroom" and the teacher community gave it 5 stars!

The California Department of Education selected KQED to help fulfill the state mandate to provide instructional resources on media literacy to all California teachers.
About KQED
KQED is a nonprofit, public media station and NPR and PBS member station based in San Francisco that offers award-winning education resources and services free to educators nationwide. KQED Teach is a collection of professional development courses that empower educators to teach media literacy, make media for the classroom and lead media-making projects with students in K-12.